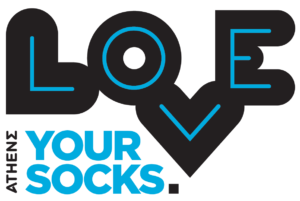 PAYMENT METHODS
To serve all those who want to buy from our online store, www.loveyoursocks.gr offers you the following alternative payment methods:
Payment by Bank Deposit
You may deposit the amount of your order to the below bank accounts:
Bank: ALPHA BANK
IBAN Number: 
Beneficiary's Details: 
The amount credited to loveyoursocks.gr s e-shop accounts must correspond to the exact price of the order. Any bank charges should be covered by the customer. Please indicate your name and the order number in your payment to avoid delays. Your order will be processed once the payment is confirmed. This can take up to 2 business days, depending on the bank's process.
Payment through Credit, Debit and Prepaid Card
The online store loveyoursocks.gr accepts all Visa, MasterCard, Maestro, Electron, Diners, American Express credit cards. Your transactions in our online store are protected by online security caps. Please note, payment is only debited from your card at time of dispatch. Loveyoursocks.gr e-shop has taken all necessary steps to secure your transactions through your cards and all credit, debit and prepaid cardholders are subject to validation checks. The payment via credit card is made by redirecting to the secure payment environment of Alpha Bank.
Payment using the Masterpass digital wallet.
Payment with PayPal
Loveyoursocks.gr online store accepts PayPal payments.
Cash on delivery (Greece only)
The cash on delivery service guarantees secure payment for your goods upon delivery (Greece only). Purchase your order paying the total cost when delivered to you by ELTA Courier, at the delivery address registered. This payment method is available only for Greece and indicates a surcharge of € 5 (including 24% VAT). The payment is valid as a method of payment for amounts not exceeding € 15.00.
SECURITY
Realizing the importance ensuring the security of your online purchases, our company has taken every precaution and all the necessary measures in order to provide online payment services with maximum safety. All payments made using the card are processed through the electronic payment platform of "Alpha e-Commerce" of Alpha Bank and uses TLS 1.2 encryption protocol encryption with 128-bit (Secure Sockets Layer – SSL). Encryption is a way of coding the information until it reaches its recipient, who will be able to decode it using the appropriate key.
ENCRYPTION
From the very beginning until the completion of your on-line session, all your personal information is encrypted under the 128-bit (Secure Sockets Layer – SSL) encryption protocol. Every time you send information towards the system, your browser first encrypts the information using the 128 bits key and then sends the information to the system. The system decodes the information using the same key (which is predetermined at the start of your connection to the service) and then goes on to process the information. The system sends you information using the same encryption procedure.